Compiled by Museum Staff
In the lead-up to our 2016 Symposium- The Road from Appomattox: Political Violence, Military Conflict, and National Reunion, we're asking the Symposium's lecturers why we shouldn't stop our study of the era at Appomattox and how they first became interested in the Civil War. Caroline Janney is Professor and Assistant Department Head at Purdue University and author of "Remembering the Civil War." She serves as a co-editor of the University of North Carolina Press's Civil War America Series and is the in-coming president of the Society of Civil War Historians.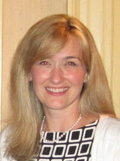 Question 1– Why should people care about the post-Civil War period?
Janney– Looking at the period beyond the spring of 1865 can be as revealing if not more than the years of 1861-1865. I am continually fascinated by trying to understand how those who survived the war – be they soldiers or civilians – grappled with the meaning of what they had just experienced. How did they understand their place in the postwar world – as victors or losers, as freed men and women, or otherwise? For both defeated Confederates and newly freed people – how did they put one foot in front of the other in the summer of 1865? How did all of these various groups understand what they had accomplished, sacrificed, or lost? And how did they explain this to their children? These are the questions that I ponder when I visit battlefields or museums. These are the questions that continue to drive my interest and study of the war.
Question 2– How did you first become interested in the Civil War?
Janney- I'm often asked how I came to study the Civil War. And the answer is quite simple – I grew up in the Shenandoah Valley surrounded by it. My home town had as many Confederate monuments as it did stoplights (two). Both my grandparents and parents took me, my brothers, and cousins to battlefields such as Gettysburg, Antietam, and just over the mountain – to New Market (my poor mother was always a gracious sport agreeing to attend the battle's reenactment which usually fell on Mother's Day). I never thought I would pursue a career studying the war, but as a child and teenager it was certainly something that captivated my imagination.