Compiled by Museum Staff
In the lead-up to our 2016 Symposium- The Road from Appomattox: Political Violence, Military Conflict, and National Reunion, we're asking the Symposium's lecturers why we shouldn't stop our study of the era at Appomattox and how they first became interested in the Civil War. Our next speaker profiled is Douglas Egerton. Egerton is Professor of Early American and 19th-Century U.S.History at Lemoyne College and author of "The Wars of Reconstruction."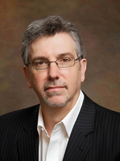 Question 1– Why should people care about the post-Civil War period?
Egerton– Two reasons spring to mind. First, only conventional fighting ceased with the surrender at Appomattox. I named my story The Wars of Reconstruction because in many ways, the fighting entered a bloody new phase. Both Confederate veterans and former USCT men often returned home with their arms, and so the wars I cover in my account are not just the political wars in Washington, but actual wars on the countryside. Of the roughly 180,000 black men who had worn blue, 141,000 of them had been born into slavery, and they returned home determined to battle for land, voting rights, and decent schools for their children. And far too many of them paid a price for that. Former slave turned South Carolina Congressman Robert Smalls once estimated that as many as 53,000 black activists were systematically targeted for assassination and removal in the years after the war. Southerners of both races understood that people continued to shoot at one another for decades after 1865.
And second, Americans should understand that Reconstruction was a national story–and a local story. We tend to think of Reconstruction as something that took place in Washington, but historians now examine those years from every possible angle. White Republicans generally thought of Reconstruction as something to be imposed on the former Confederacy, but Frederick Douglass once remarked that the entire country required reclamation. Black activists–many of them forgotten today–fought for voting rights, integrated coaches and streetcars and trains, from Richmond to Philadelphia to San Francisco. Virtually every city across the nation has a Reconstruction story, and only weeks after Lee's surrender, black activists met in the Richmond home of shoemaker Robert Johnson to hear about the new National Equal Rights League and form their own branch. The saga is far richer than just the impeachment of Andrew Johnson.
Question 2- How did you first become interested in the Civil War?
Egerton- Most historians have a story for why they decided to spend their lives rummaging around in the nation's past, and why they pursue the sort of scholarship that they do. In my case, I had a grandmother who was born in Nashville in 1885, and she survived to the age of ninety-five. As do all of us, she carried the cultural baggage of race, class, gender and region, and while she was a lovely, genteel southern lady, she had the racial attitudes one would expect of a white American born during the last years of Reconstruction. I was raised in Arizona, but early on I decided I wanted to move east and focus on the nineteenth century South. Since receiving my Ph.D. in 1985, all of my scholarship has focused on the intersections of race and politics, if perhaps not in a way that my grandmother would have approved.