Compiled by Museum Staff
In the lead-up to our 2016 Symposium- The Road from Appomattox: Political Violence, Military Conflict, and National Reunion, we're asking the Symposium's lecturers why we shouldn't stop our study of the era at Appomattox and how they first became interested in the Civil War. Our next speaker profiled is Gary Gallagher. Gallagher is the John L. Nau III Professor in the History of the American Civil War and Director of the John L. Nau III Center for Civil War History at the University of Virginia and the author of "The Union War" and "The Confederate War."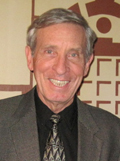 Question 1– Why should people care about the post-Civil War period?
Gallagher- Whatever most people know about the Civil War probably has roots in debates about the meaning of the conflict that unfolded in the decades after Appomattox. The loyal citizenry of the United States, former Confederates, and African Americans developed competing traditions of Civil War memory, all of which have enjoyed periods of greater or lesser influence in the broader American culture. Only close attention to the postwar years yields a good understanding of how, and when, these memory traditions arose, how they changed, and how they interacted with one another.
Question 2- How did you first become interested in the Civil War?
Gallagher- I became interested in the Civil War as a boy growing up on a farm in southern Colorado (I was born in Los Angeles and am a third-generation Californian). I had no ancestor on either side, no relative who read about the war, and no friends who shared my growing interest. I developed a deeper engagement with the war the old-fashioned way—through reading. My maternal grandmother began buying me Civil War books for birthdays and Christmas when I was eleven, and soon the rest of the family caught on and emulated her. By time I graduated from high school, my little library exceeded 250 volumes, and I knew I wanted to teach the Civil War some day.