Today we launch a new blog series – #AskACWM – where we bring the best and most interesting questions we get on social media and put them to our staff to respond. To kick things off, we have a tweet.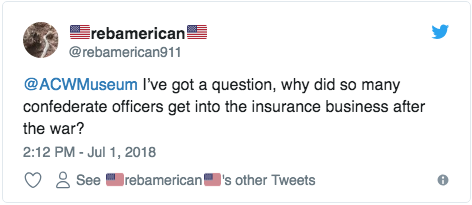 To answer, we called upon our Museum Historian John Coski and our Mellon Guest Curator Chris Graham.
Good question. Jefferson Davis was the most famous former Confederate to go into the insurance business after the war. He served as president of the Carolina Life Insurance Company of Memphis from 1869 to 1873 and recruited several former Confederate officers to fill positions in the company. As you note, other high-ranking generals also became insurance executives or salesmen. Among them were Henry Heth, Lafayette McLaws, John Marmaduke, Beverly Robertson, and Gustavus W. Smith.

This phenomenon says much about the reputation of the former soldiers. Certainly, officers who had commanded large units of men carried prestige and credibility that could help a new or revised business that depended on credibility and prestige.

Yet evidence suggests that more Confederate officers found their post-war employment in railroad and banking than in insurance. William W. White's classic study, The Confederate Veteran, discusses the importance of banks and railroads, as well as farming, commerce, education, and the church—not insurance—as the primary fields for former Confederates. Conducting a word search through Ezra Warner's 1959 biographical compendium, Generals in Gray, confirms that more general officers worked in banking and railroads than in insurance.

It also says much about the economic context of postwar America. Charles Francis Adams wrote in 1869 that, "the system of corporate life…[is]…a new power, for which our language contains no name." Indeed, insurance companies were an essential element in large-scale corporate capitalist enterprises like railroads and industry that United States victory in the Civil War had unleashed, and former Confederates often readily embraced that new power.

In fact, the American Civil War Museum will be exploring the economic foundations of that post-war corporate culture in its upcoming exhibit, Greenback America.