Step into George Caleb Bingham's 1852 celebration of American democracy, The County Election. In the boisterous and crowded scene, we see the defining features of voting and elections before the American Civil War, both virtuous and wicked. Scattered in the crowd are groups of men of all classes debating the issues. Americans declared, after all, the superiority of their democracy because voters could reasonably decide the best interests of their communities in free and open contests.
But reasonable debate didn't always enter into it.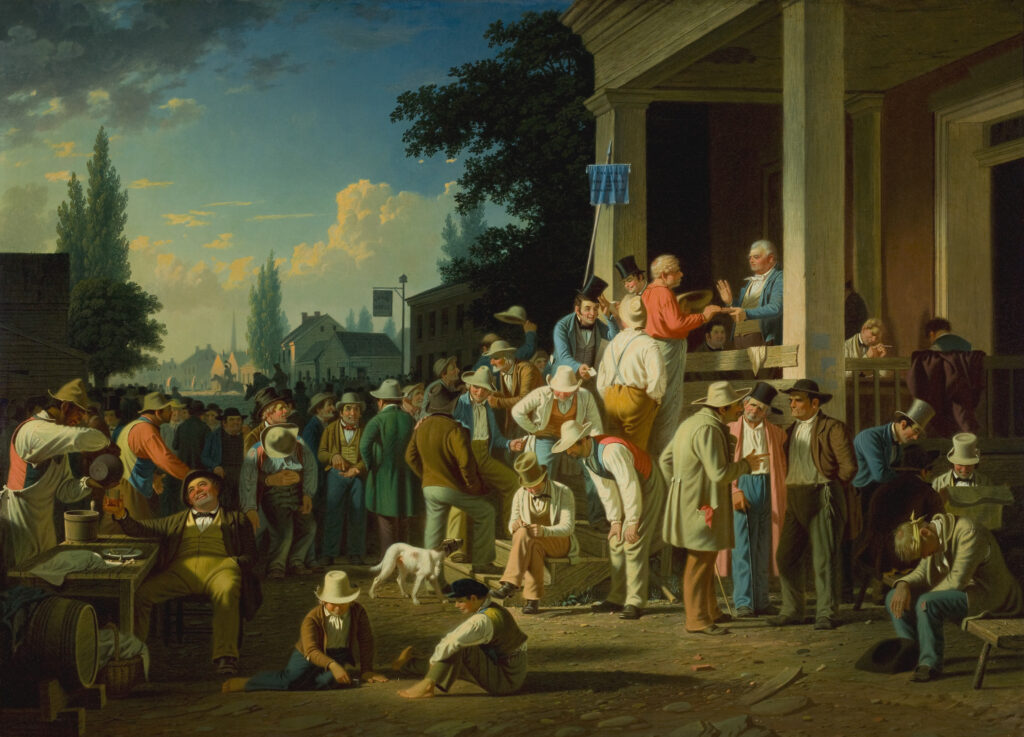 On all sides of the painting are men being treated to strong drink, and succumbing to it in the end. Candidates standing for office–the man on the stairs doffing his hat, perhaps–no doubt doled out the whiskey in his effort to sway voters. On the right side, is a man bowing his bandaged head. Did he drink too much? Or was he bludgeoned by party opponents while attempting to carry tickets to the polls? Did the top-hatted candidate direct that bit of skullduggery?
Of course, what is missing is glaringly obvious. Only White men appear in the entire scene of American democracy. This painting represents Missouri in 1852, but had it been executed in Pennsylvania before 1838 we might see Black men standing in line to vote. Had it been in New Jersey before 1807, a woman might be seen casting her ballot.
The United States had come a long way since all of the original states instituted property qualifications that limited voting rights to the wealthy and the landowners in their first post-Revolution constitutions. The period after the War of 1812, popularly known as the age of Jacksonian Democracy, saw great expansion of the electorate—the White male electorate that is. At the same time it saw the elimination from the rolls of eligible voters of non-White men as states retracted voting rights for Black people (including free Black men who had been permitted the vote in some slaveholding states).
Behind Bingham's painting lie several fundamental principles of voting in pre-war America. It had become exclusively the arena of White men, of course. It was also exclusively the purview of the individual states to determine who could vote and who could not. The United States Constitution conveyed citizenship, but citizenship never automatically meant the right to vote. The vote was considered a privilege granted by individual states. And so states frequently tinkered with regulations governing who could vote and who could not. Any citizen could be granted the right to vote. Any citizen could have the right revoked for any reason.
Still, Americans approached elections with democratic gusto. Voting took place in public, and nearly everyone could witness (or hear in the five states in 1860 in which citizens voted by calling out their chosen candidates in public meetings) how others voted.
Voters cast tickets, carrying the names of men running for offices, that had been printed by political parties, by partisan newspapers, or candidates themselves. Tickets often took a roundabout route to the ballot box, with messengers dodging party thugs seeking to steal ballots. No rules governed the validity of a cast ticket. Some required voters to strike through candidates they did not vote for. If one wanted to vote across party lines, one might have to cut out names and offices from different tickets and paste them together. Some stations required signatures. Some printers distributed tickets that left no space to write in an alternate candidate.
If not straight-up illegal, these elections were rife with opportunities for dissemblance and fraud.
But Americans who possessed the privilege of voting did so in great numbers and held it close to their sense of why they considered the United States unique in the world.
---
The 2020 Presidential election season is momentous. It turns not only on generation-defining issues, but also on the pure mechanics of voting. Will voters in a pandemic show up to potentially crowded polling places? Will the United States Postal Service deliver mail-in ballots in time? In some states, who is even an eligible voter is disputed.
The American Civil War has proven to be the pivotal moment in the transformation of American voting rights, if not the actual mechanics of voting. The 14th and 15th Amendments changed everything. Yet in some ways, nothing changed at all. Still, the United States that approached the presidential election of 1860 differed remarkably from that which elected a president in 1872.
To appreciate the changes, the American Civil War Museum is introducing a series about voting in the era of America's greatest conflict.
This series will highlight key electoral moments, from the familiar to the unfamiliar, and will illuminate how deeply passionate Americans have been about political participation, about who gets to participate at all, and who gets to decide. In the spirit of voting, we would like to invite you to have your say. Cast your questions at [email protected] or message us at @ACWMuseum on Twitter or Facebook!