Part of the Museum's mission is to explore the legacies of the American Civil War, and that certainly includes the experiences of the war's veterans. Currently, our Museum in Appomattox features an exhibit covering veterans in the South. Here's the story of two artifacts from that exhibit.
In the early 1880s, Confederate and Union veterans began making "fraternal visits" across the Mason-Dixon Line. Widely covered because they offered tangible evidence of reconciliation, the fraternal visits were actually quite rare.
The Aaron Wilkes Post, Grand Army of the Republic, of Trenton, New Jersey, traveled to Virginia in October 1881 for the Yorktown surrender centennial and its members were entertained lavishly in Richmond by veterans of three prominent Confederate units. The Federal veterans vowed to return the favor and invited their Confederate counterparts for a visit to Trenton in April 1882.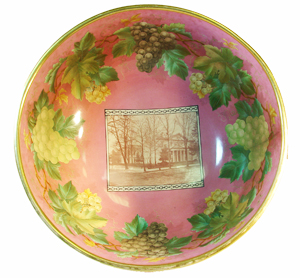 In the meantime, the Wilkes Post and the local Women's Auxiliary Corps commissioned special gifts for the three Confederate veterans organizations: locally-produced punch bowls "from which the health of the donors and recipients might be drunk…." The bowls were richly decorated with symbols and inscriptions of the two states, the respective organizations, and of sectional reunification.
Descriptions of the punch bowls even made it into a published account of the reciprocal visits, Post-Bellum Campaigns of the Blue and Gray: 1881 – 1882.