Compiled by Museum Staff
Oh this day in 1862, the Norfolk Day Book reported the following about the state of the city. 
"Whisky — Whisky — Whisky.–In the cars, at the shanties, at the groceries, in village taverns and city hotels — whisky. Officers with gold lace wound in astonishing involutions upon their arms, private soldiers in simple homespun, and civilians in broadcloth, all seem to drink whisky with persistent energy and perseverance. They drink it, too, in quantities which would astonish the nerves of a cast-iron lamp-post, and of a quantity [quality?] which would destroy the digestive organs of the ostrich. Truth is often unpleasant to tell, but the public safety demands that the vice in question should be rebuked and reformed; for it is a fact which the press should neither palliate nor conceal, that whisky which is no more akin to rye than rye is to coffee — whisky which is of the unadulterated tangle–first chain-lightning distillation is guzzled down in a manner alike revolting to public decency and the general good."
You can see that passage mentioned in The Rebellion Record. We dug up a few other references to the "vice" from letters and diaries in our archives. Enjoy these excerpts below, and if you need a little extra help imagining the consumption of such libations, this or this might help you. 
---
Camp of Rockbridge Arty.
Near Winchester
Nov 12th, 1861
Dear Jenny;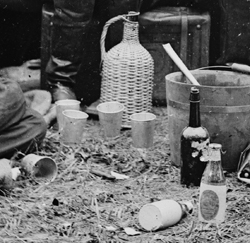 "… That night we slept in an old barn, or rather attempted to sleep, for several of the men had gotten hold of some whiskey on the march, and were consequently shamefully noisy at night. The next day we marched over the Blue Ridge in a drenching rain and crossing the Shenandoah arrived that night at Berryville in Clarke Co. – During this days march the men were in a most disgraceful state. Most of the drivers were drunk, the horses were almost fagged out & the rain and mud conspired to make the appearance of the battery of the sorriest kind & the march anything but agreeable…"
Yr aff brother
R[andolph] Fairfax
---
​[from diary of James Thomas Petty, CSA]
Monday, October 14, 1861
"Left camp at 7 a.m. for the X roads ("Mills") & arrived at 11 a.m. – We relieved the 7th Va. Regt. – There was a tall muss in the "O'Connell Guards" this morning – our whiskey rations induced it – I am inclined to think I can imagine nothing more detrimental than the policy if issuing them 8 times a day…"
---
August the 6 1861
Dear Martha
"…Capt Lacy has been drunk ever since he has been here and before he came here he is now lying in his tent so drunk as a fool he will have a trial as soon as he becomes sober enough to attend court marshal and then he will be turned out of office which he ought to have been long ago all the privates intend to rebell against him. His conduct has been so bad we cannot stand him any longer he is a mean [words joined] man that is certain and he has sh[ow]ed it in evry respect…."
E[dward] C. Mayo
To M. E. Mayo