The plight of refugees has been in the news a lot since the November presidential election. The phenomenon is not new, however. People have been displaced through disaster and war for millennia. The American Civil War was no exception.
Our guest blogger, historian David Silkenat, provided a glimpse into the story of one such refugee.
In May 1862, Varina Davis became a refugee. Like many wealthy Richmond residents, Varina fled the Confederate capital in response to the encroaching Union army marching up the Peninsula. She left the city with her four children, at least three servants, and $12,000 in Confederate currency, bound for Raleigh, North Carolina, where she believed that they would be relatively safe until the danger passed.
The Confederacy's First Lady was hardly alone in thinking that they could find sanctuary in the North Carolina Piedmont. Throughout the Civil War, thousands of white Southerners moved to the Confederate interior, hoping to put as much distance as possible between themselves and the enemy.
Cities in the North Carolina Piedmont, including Raleigh, Hillsborough, Salem, Greensboro, and Charlotte, became overcrowded with refugees. One Raleigh resident noted that "there are many here whose homes are threatened, and they have sought refuge here, and there are many who have no homes."
Even for wealthy white Southerners, refugee life posed significant problems. In May 1862, the Raleigh Register lamented that "This city is at present crowded to repletion with refugees from Virginia and different parts of the State. On Thursday night several ladies were compelled to sleep on the floor of the parlor of the Yarborough House [a popular hotel], and one party of ladies were obliged to sit up the whole night for the want of beds to lie upon."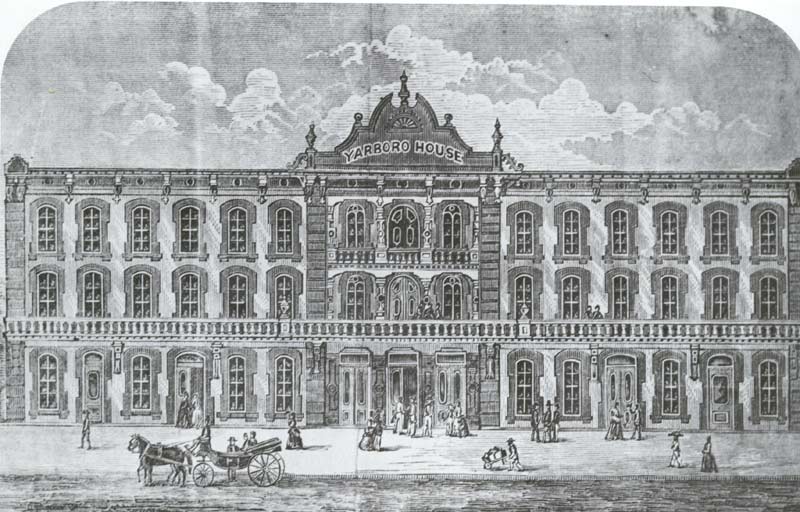 The Yarborough House (also spelled Yarbrough and sometimes Yarboro)
The hotel's most famous refugee-guest, Varina Davis, complained to her husband in May 1862 about the conditions at the hotel, noting that "the house is full to overflowing here, and the fare dreadful." She found the rooms "terribly crowded, and very rough" with "everything in rags."
While she regretted the relative poverty of her situation, Varina Davis struggled most with the cost, telling her husband that she "could get well on but for the exorbitant charges."  After an uncomfortable month at the Yarborough House, Varina Davis moved her family to St. Mary's School, an Episcopal girls boarding school in Raleigh, where they stayed until it was safe to return to Richmond.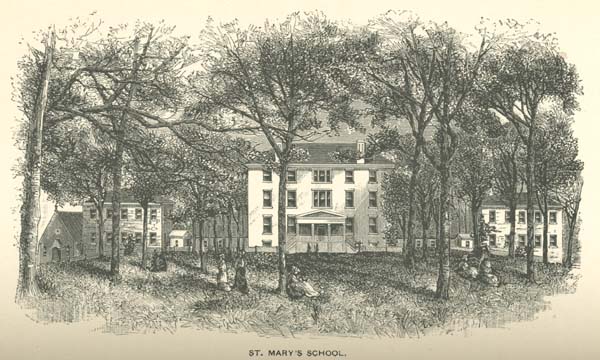 St. Mary's School
While Varina Davis stayed in Raleigh only a few months, returning to Richmond in August 1862, most white refugees in the North Carolina Piedmont did not have the opportunity to return home. Many had become refugees when Union armies occupied their homes, including thousands from eastern North Carolina, Louisiana, and Tennessee. For them, housing became increasingly difficult to find. So too did food, which grew progressively more expensive as the war continued.
Many white refugees brought their slaves with them to the North Carolina Piedmont, hoping that the distance from Union lines would make it more difficult for them to run away. Many refugee slave owners did not calculate, however, how much feeding and housing their slaves would cost, so far from the plantation.
In late 1862, planter Paul Cameron noted that "The poor refugees who have brought their slaves up the Country find it impossible to provide a home … Those who hold them in large numbers must provide by purchase both homes & food! It is indeed a hard time on the slave holder and we can hardly escape ruin."
On March 29, 1865, Varina Davis became a refugee for a second time. Fearing for his family's safety, Jefferson Davis put his wife, their children and a small entourage on a train bound for Charlotte, while he stayed in Richmond for the inevitable final assault by Union forces on Lee's army at Petersburg.
As in 1862, they believed that North Carolina would provide sanctuary, at least temporarily. At her husband's direction, Varina Davis took very little with her. He did provide her with a small purse of gold coins and a pistol for self-protection, instructing her on how to load and fire the weapon.
Just before she boarded the train, Jefferson Davis told her that since she "cannot remain undisturbed in our own country," once in Charlotte, she should "make for the Florida coast and from there board a ship to a foreign country."
Editor's note: Varina and her family did not board a ship for a foreign country, as suggested. Their travels eventually took them to Georgia, where she and Jefferson were briefly reunited prior to his capture and imprisonment in May 1865. One year later, Varina was allowed to reside in his prison quarters. They remained together until his death in 1889.
David Silkenat teaches American history at the University of Edinburgh. He is the author of Driven From Home: North Carolina's Civil War Refugee Crisis (2016) and Moments of Despair: Suicide, Divorce, and Debt in Civil War Era North Carolina (2011). You can read another recent article on refugees here. He also is a co-host, with Frank Cogliano, of "The Whiskey Rebellion," an American history podcast.