Cadence Wilmoth is a graduate student in Museum Studies at the University of North Carolina at Greensboro and served as an intern at the museum this summer.
In my 160 hours as an American Civil War Museum intern this summer, I had opportunities to work on an innovative project based learning lesson plan and to visit and critique some of the best museum exhibitions in the Southeast. But I did nothing so intriguing as prototyping the RVA Global Tour.
Now, you might be wondering what that means.
So did we.
The RVA Global Tour supports the Museum's temporary exhibit Southern Ambitions: War for the Future, funded by the Andrew W. Mellon Foundation. Southern Ambitions will invite visitors to explore the international stakes of the American Civil War—chiefly through the aspirations of Confederate diplomats, journalists, and policymakers. This project will provoke visitors to wonder how the world might have looked different had Confederates secured their independence (and to better appreciate how history did evolve), and to reflect on their place in international relations today.
Southern Ambitions also compelled the Mellon team to think about how we could use this not only to see Richmond's Civil War history in a new light, but also about how to introduce this to people who do not visit us, but who might be yearning for unexpected approaches to Civil War history. Thus, the RVA Global Tour was born.
We identified twelve stories that encapsulate Richmonders' Civil War era global ambitions—from Boston Drayton's move to Liberia to L.Q.C. Lamar's aborted mission to Russia; from John Letcher's visions of a Pacific empire to William Trescott's attempts to make an alliance with the proslavery Spanish in Cuba.
To each story we have pegged a historical location connected to the story, and a contemporary location connected to a modern expression of the foreign country associated with the story. We plan to install engagement posters in those locations—the parks, café's, and restaurants of Richmond–and passersby, most of whom are not museum visitors, may discover then and explore historical stories on our microsite. People who encounter the posters will be encouraged to take a selfie with two of them and bring those pictures to the museum for a small incentive and a discounted admission.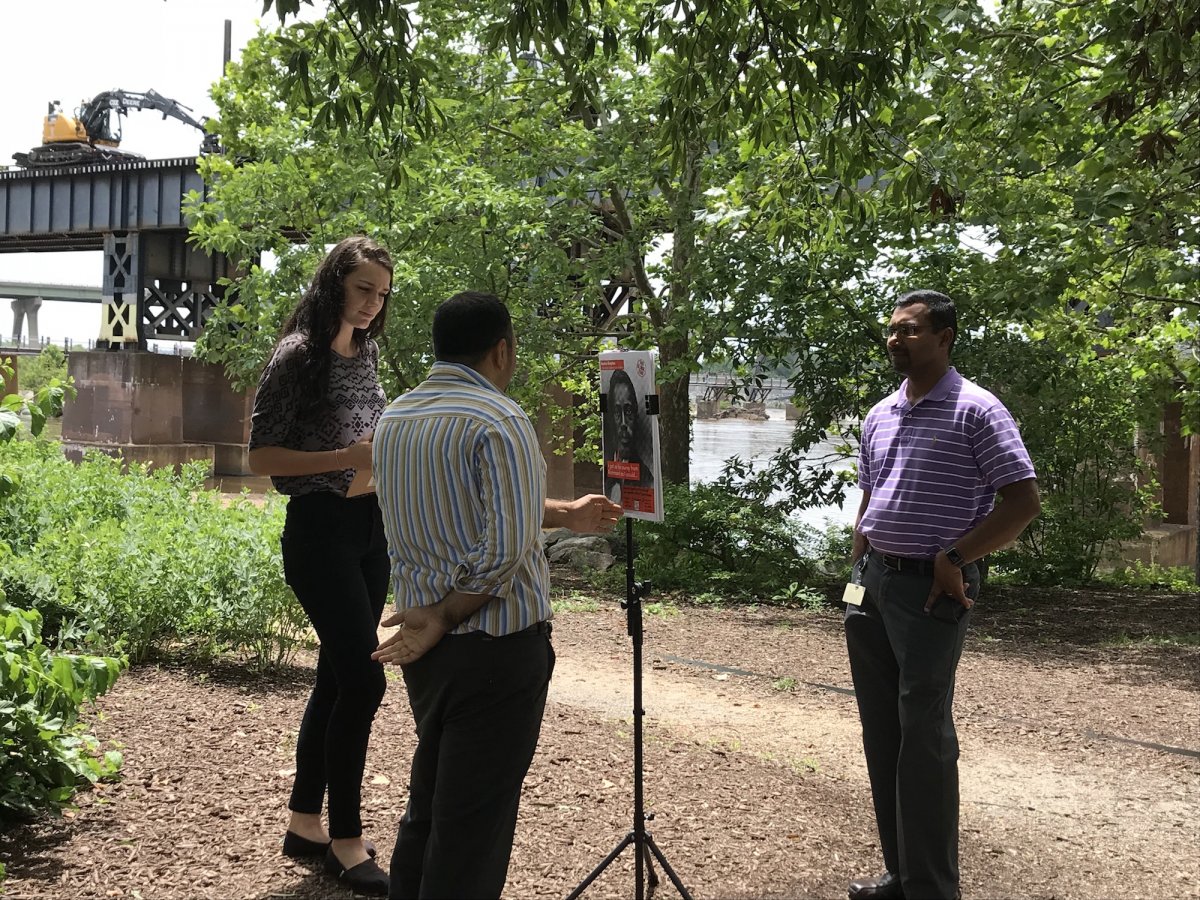 To kick off this project, the Mellon team spent countless hours testing versions of the engagement posters to discover the pictures and words most attractive to people who encounter them. I contributed chiefly
by recording site audits for many of the potential tour locations, like the Central Virginia Railroad trestle and Chef Mamusu's Africanne on Main. I observed people's behaviors at each site and filled out charts that considered site accessibility, characteristics of people around the site (business people walking to work; students studying over coffee), and best locations for posters.
One perk of this work is that I ate well—Mexican elote, Bavarian schnitzel, and Liberian yams—and saw some great art—a Brazilian oratorio and a Nigerian ceremonial costume! And that is the point: exploring international connections to the American Civil War can open up so many surprising and wonderful vistas into the past and the present. In this way we are looking forward to introducing our visitors to the unexpected cultural treasures of Richmond; and in introducing a new generation of Richmonders to new ways of thinking about the American Civil War.
I am back at school in North Carolina, but the RVA Global Tour is unveiling a major prototyping test in September and October (as soon as the Hurricane Florence clears out). You may use the Global Tour microsite to find historic and contemporary locations. Or, in your travels around town, keep an eye out for Benito Juarez, Hong Xiuquan, Giuseppe Garibaldi, and others. Take your picture with them, discover their stories, eat great food and see great art, and come down to the American Civil War museum to see this pivotal point in American history in a new light.