By Bryce VanStavern
Interpretation Supervisor
"Summer Dress is down." As the Interpretation Supervisor for the American Civil War Museum, I got to post that recently for our interpretive staff in the White House of the Confederacy. What this means is that all of the things that are altered in the house for summer (slip covers on furniture, mosquito bar over beds) have been taken down and our interpreters need to eliminate summer dress from their tours. I like to give them a heads up when things like this happen.
One of the really interesting things about being an interpreter in the White House of the Confederacy is that the house is always changing. Over the course of the year we go through not just summer dress but winter dress and Christmas dress as well, and our collections department does an amazing job with making these changes. They are never quite the same, and each change gives us different things to talk to visitors about.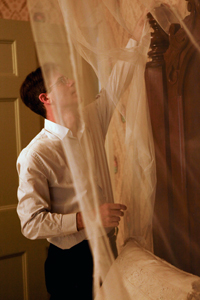 During the summer, visitors see mosquito bar over beds and ask about malaria. Interestingly enough, during the Civil War malaria had not yet been linked to mosquitoes but people still didn't want bugs crawling on them while they were sleeping. Still, malaria was a pretty serious issue at that time. Jefferson Davis had it and his first wife Sarah Knox Taylor died from complications caused by it. We don't think about malaria as a serious threat anymore but at the time of the Civil War it was a reality and summer dress gives us an opportunity to tell visitors about it.
The winters of the Civil War were among the coldest in history and winter dress gives us the opportunity to address those issues. Christmas dress affords us similar opportunities to talk about the different things that families did at Christmas during the Civil War. During the holiday season we enjoy telling visitors about the greenery in the house as well as the story of the Christmas tree and how they differed during the war from today.
In addition to all that, artifacts are always changing and new things are always presenting themselves. The recent acquisitions of two vases as well as a bust of Jefferson Davis that were in the house during the war give us two new tales to tell as we seek to find new ways to make the tour interesting.
So if you haven't been on a house tour in a while, come back again. If you've never seen Christmas dress, come by sometime this holiday season and see what we do. The house is always changing and it is always a fun challenge for those of us that interpret it to tell the tales of the people and things that watched the Civil War from the White House of the Confederacy.