By Patrick Saylor
Director, Marketing Communication
Old homes hold many stories within their walls, and the house at 12th and Clay Streets in Richmond is no exception. As the residence of Confederate President Jefferson Davis and his family from 1861-1865, the White House was the scene of many conversations and interactions, both public and private, among family members, free and enslaved servants, and visitors.
The American Civil War Museum presents "Overheard: Conversations About Hope, Yearning, and Loss," a special interactive evening tour of the White House of the Confederacy. The tour will be offered at 5:30 and 7:00 p.m. March 16, 23, and 30.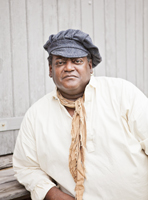 Dylan Pritchett
The tour was written by Dylan Pritchett, a nationally known storyteller, author, and educator. The Williamsburg native says he was inspired by the untold stories of old houses.
"Many house tours deal with the physical artifacts, the furnishings and the like" he explains. "But somebody had to clean those objects. Somebody ate from them. Somebody broke them. The people coming in and out of the house created an interesting dynamic, of lives impacted by war, the hope of freedom and the promise of equality."
The people represented by these stories are diverse, including free and enslaved black people, Irish and German immigrants, and members of Richmond society, among others. "The people who served here were varied, and their stories show that life must have been very interesting during the four years the Davis family was here," he says. "It's a very transformative tour that looks at topics people don't often consider in a Civil War setting. A lot of lives were changed, and in many ways, we're still dealing with the same issues."
Space for the tour is limited, and reservations are encouraged. Register for any tour online at ACWM.org/overheard. Cost is $10 for adults, $5 for youth ages 6-17. Museum members receive a discount. For information, call Kelly Hancock at 804-649-1861 x121.