Born June 27, 1864, in the White House of the Confederacy, Varina Anne Davis was destined to become an icon of the South.  The youngest of six children born to Jefferson and Varina Banks Howell Davis, her father's favorite nickname, "Winnie," passed from spouse to daughter.

At the conclusion of hostilities, as the former President of the Confederacy, Winnie's father was arrested for treason, but was never tried.  During his two years of imprisonment at Fort Monroe, Virginia, Winnie (accompanied by her mother) was the only Davis child permitted to visit her father.  Witnessing first-hand the imprisonment of her father had a profound influence upon Winnie's character development.  While originally home-schooled by Jefferson and Varina, Winnie's parents determined that a boarding school education abroad would benefit their very bright daughter.  As a result, Winnie Davis spent most of her short life away from the South.
Enrolled in a German boarding school, Winnie became fluent in French and German.  So very eager to please her parents, Winnie was a diligent student.  With a European boarding school infusing a more global perspective, Winnie felt somewhat out of place with her American contemporaries upon her return to the U.S. and her parents' new home, Beauvoir.
Originally called Orange Grove, due to the Satsuma oranges growing on the estate, the home was constructed in 1852.  When Orange Grove was sold in 1873 to Sarah Dorsey, a childhood friend of Mrs. Varina Davis, she renamed the home Beauvoir (French for "beautiful view"), due to the sight from its front porch of the Mississippi Sound.
With an ailing mother, Winnie Davis assumed the responsibilities of secretary, literary assistant, and travel companion to her father.  Traveling the South with her father, together they made public appearances and speeches, garnering Winnie the enduring title, "Daughter of the Confederacy."  As her father's memoirs were published, Winnie also began to pursue writing for her livelihood. Harper & Brothers would publish her first novel, The Veiled Doctor, in 1895.
With the passing of Jefferson in 1889, Winnie continued to frequent "Lost Cause" venues—respecting the memory of her father.  One such event in July, 1898 brought Winnie's young life to an abrupt halt.  After being soaked by a rainstorm during a Confederate reunion in Atlanta, Georgia, Winnie traveled by train to meet her widowed mother in Rhode Island for their summer stay.  Upon reaching Narragansett Pier, a very ill Winnie was diagnosed with "malarial gastritis" and sadly passed away at age 34 on September 18, 1898.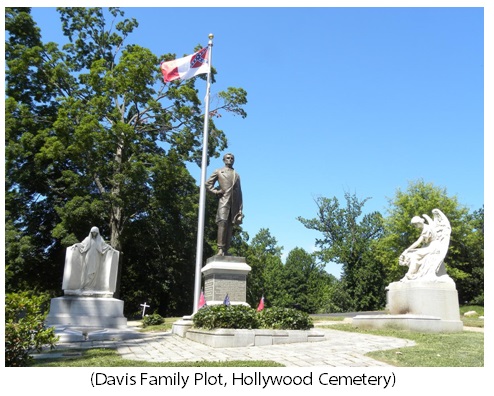 Due to her service to Confederate veterans' groups, Winnie was buried with military honors in Hollywood Cemetery, Richmond, Virginia—next to the graves of her father and brothers (predeceasing both her mother and older sister).
This blog author was fortunate to visit the historic site of Beauvoir in 2001, prior to the horrible destruction by Hurricane Katrina in 2005.  Over the years, Beauvoir had withstood thirty-seven hurricanes…with the 38th storm, Katrina, by far the worst.  This portion of the Gulf Coast sustained hurricane-force winds for more than sixteen hours, creating the overwhelming and costly tasks of restoration and collection rebuilding at Beauvoir.

SUGGESTED READINGS:
Coski, Ruth Ann. Winnie Davis' "Italian Journal" Details Her Travels Amid Travails. Museum of the Confederacy Magazine, 2010.
Cashin, Joan. First Lady of the Confederacy: Varina Davis's Civil War. Cambridge, MA: Harvard University Press, 2006.
Lee, Heath Hardage. Winnie Davis: Daughter of the Lost Cause.  Potomac Books: University of Nebraska Press, 2014.