Book Talk: Women's Suffrage and the Civil War
August 6, 2020
@
6:30 pm
–
8:00 pm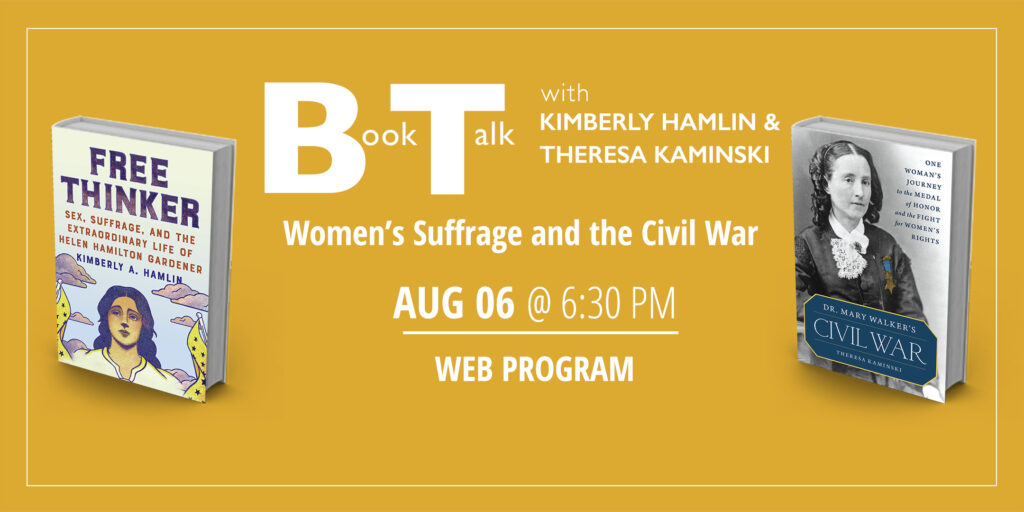 Helen Hamilton Gardener negotiated Congressional passage of the 19th Amendment and died as the highest-ranking woman in federal government. Dr. Mary Walker served as a contract surgeon and was awarded a Medal of Honor by President Andrew Johnson in 1865. How did their inextricable connections to the events of the American Civil War impact their fight for women's suffrage? Join us for this special joint book talk as authors Kimberly Hamlin (Free Thinker: Sex, Suffrage, and the Extraordinary Life of Helen Hamilton Gardener)and Theresa Kaminski (Dr. Mary Walker's Civil War: One Woman's Journey to theMedal of Honor and the Fight for Women's Rights) discuss their work.
A recipient of the NEH Public Scholar Award, Kimberly A. Hamlin teaches history and American studies at Miami University of Ohio and contributes to the Made by History series in the Washington Post. The author of From Eve to Evolution: Darwin, Science and Women's Rights in Gilded Age America, she lives in Cincinnati.
Theresa Kaminski earned her Ph.D. in history, with a specialization in American women's history, from the University of Illinois at Urbana-Champaign. She has spent more than twenty-five years researching and writing about American women. Kaminski regularly reviews nonfiction titles for Publishers Weekly and has been published with the Wall Street Journal.
Related Events