Family Day
July 31, 2021
@
11:00 am
–
3:00 pm
Free
With Admission to the Museum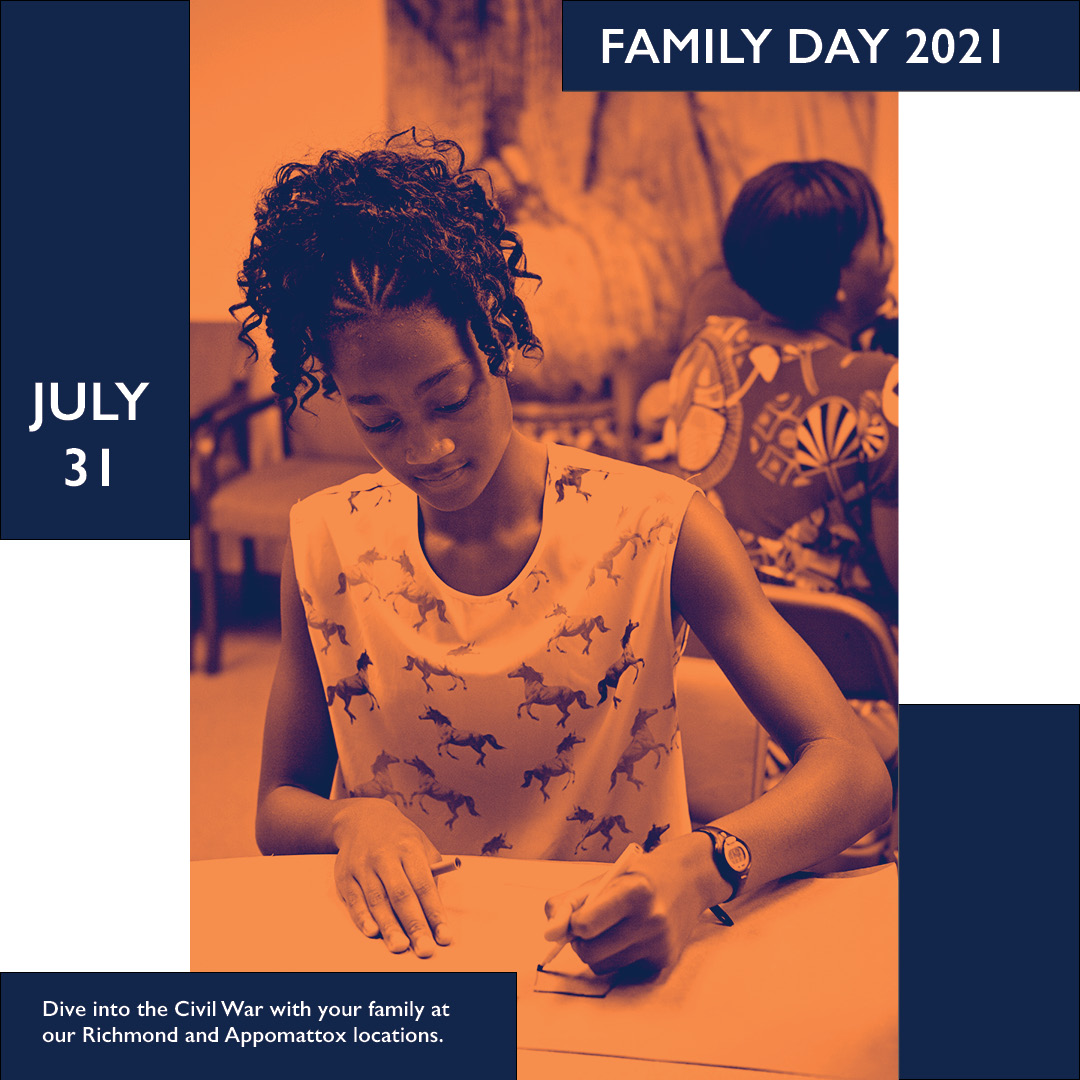 This Saturday, July 31st, the American Civil War Museum is inviting you and your family to join us for our annual Family Day! Dive into the Civil War with your family with crafts, family-friendly tours, and youth programs at all three ACWM locations. Check out the times and locations below.
ACWM Appomattox 12:00 PM – 3:00 PM
Our Appomattox site is strategically located near the site of the surrender that marked the end of the Civil War and the beginning of Reconstruction. You and your family can be the historians in the Robertson Education Room. Examine our display artifacts to discover the stories of the people who, though often far removed from the battles, still felt the effects of war. At 12:30 and 2:00 PM walk through our cabin with a guide to get a feel for what life may have been like for different people in rural Civil War America. Please register here.
ACWM Historic Tredegar 11:00 AM – 3:00 PM
The American Civil War Museum's flagship building on the banks of the James River is built around the industrial ruins of the Historic Tredegar Iron Works. Learn more about Civil War Medicine beside the furnace of Tredegar's Central Foundry. With more than 500 artifacts on display in our main gallery use our brand new "I Am Harriet Tubman" Family Packs to help you guide your young ones through the history of the Civil War. Engage with our museum educators in the gallery and cast your ballot for important causes in the 1864 election. And stretch your legs at 11:00 and 2:00 for a walk along the James River to encounter local stories of triumph and tragedy that exemplify life—and death—for many people during the War. Please register here.
ACWM's White House of the Confederacy 11:00 AM – 2:00 PM
The 200 year-old house that served as the wartime residence of Jefferson and Varina Davis was also a private home, a military headquarters, and a school! Join us in our welcome center to investigate some of the stories of the lesser known people of the House. Registrations required for House Tour. Space is limited.