Peake Series
Join us throughout the months of February and March as we explore lesser-known stories of the Civil War, and look at some familiar ones with fresh perspectives.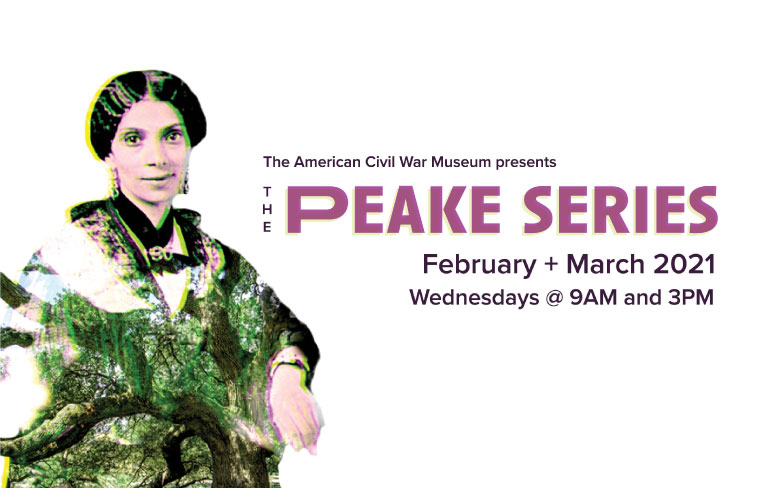 In our newest student-centered program, the Peake Series pairs highlights from key Civil War stories in our award-winning exhibit "A People's Contest" with special virtual programs featuring ACWM's museum professionals for an unforgettable experience for students and teachers alike.
Join us via Zoom every Wednesday at 9 am and 3 pm. Each program is 30-45 minutes long, with at least 20 minutes of discussion with student-geared questions followed by 10 minutes of Q&A. All programs are free for teachers and students to attend!
This series is named in honor of Mary S. Peake (nee Kelsey), one of the many African American women who dedicated their time and lives to education under the most difficult of circumstances.
---
View past programs
The Contraband Decision
Though when Abraham Lincoln called for troops in 1861 his intention was to preserve the Union rather than end slavery, the Civil War resulted in the complete emancipation of nearly 4 million people. What were some of the early steps that enslaved people took that changed the course of the war and American History.
Seizing Freedom
What does it mean to be free? What do you sacrifice in the pursuit of freedom? Encounter the stories of African American people – both enslaved and free – who embarked on a journey to freedom or worked in other ways to end slavery during an incredibly dangerous time in American history.
One Image, Two Freedom Fighters
Discover how the photo of USCT Pvt. Hubbard Pryor became a national recruitment tool and then vanished from memory only to resurface as a depiction of Gabriel, the enslaved man who planned a large-scale rebellion in 1800. With ACWM's Ana Edwards.