Historic Tredegar
Hours
Open Daily  10:00AM–5:00PM
Address
480 Tredegar St.
Richmond, VA 23219
(Get Directions)
Phone
804–649–1861 ext. 100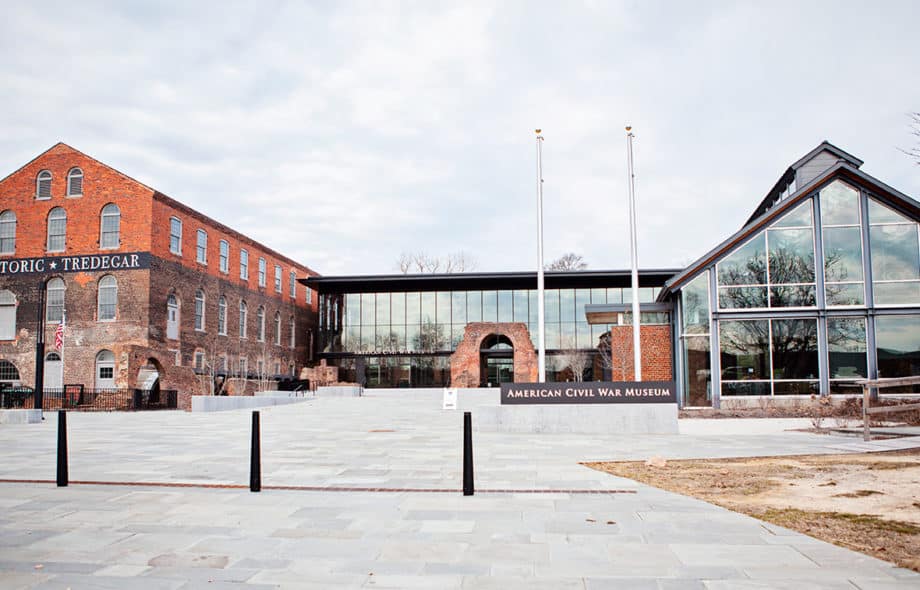 Located in downtown Richmond along the James River, the Historic Tredegar site is home to an award-winning 30,000 sq. ft. Museum surrounding the industrial ruins of Tredegar Ironworks. The building contains two galleries for exhibits (one permanent, two rotating) and has over 500 artifacts on display.
Founded in 1837, Tredegar Ironworks was one of the country's largest industrials sites before the Civil War and the largest in the Confederacy, supplying about half of the artillery for the Confederate Army.
Parking is available on site and is free with Museum admission. Please allow approximately two hours for your visit to Historic Tredegar.
---
| | |
| --- | --- |
| Adults | $16 |
| Seniors, Retired Military, Teachers, Students | $14 |
| Youth (6-17) | $8 |
| Active Duty Military† | $10 |
| Members, Kids under 5 | Free |
†Active Duty pricing is not available online. Please present your Military ID to our Visitor Experience Staff at the front desk to receive free admission.
---
A People's Contest
Struggles for a Nation and Freedom in Civil War America
Our new permanent, core exhibit, A People's Contest: Struggles for Nation and Freedom in Civil War America, features hundreds of original artifacts, dynamic theater experiences and compelling imagery. Visitors will be able to explore, understand and feel the dramatic story of the American Civil War and its legacies.
Organized chronologically as well as by topic, each gallery within the exhibit explores an aspect of the War that occurred during the 1850's and 1860's. Political developments are interwoven with civilian experiences and military events, providing multiple perspectives in a multifaceted manner. Technology is used selectively to impact the visitors' experience and encourage their engagement with artifacts and images.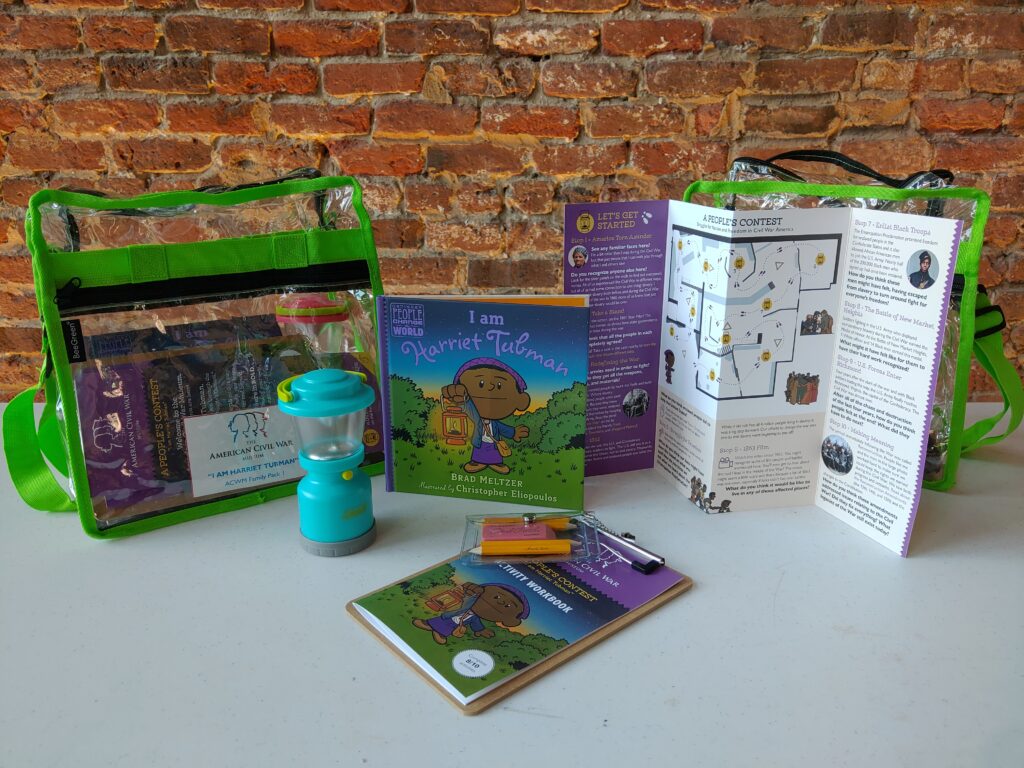 If you have a young person who wants to explore the Civil War, ask for one of our I am Harriet Tubman Family Packs, inspired by the book by Brad Meltzer. Follow Harriet's lanterns as she lights the way to freedom and work on activities to uncover empowering stories from the War.
Recommended for ages 5-10.
Click here to view more info about the Family Packs
---
Greenback America
This temporary exhibit tells the story of how the United States' decision on how to pay off the Civil War transformed the relationship between government, the economy, banks, and citizens.
Using poems, songs, cartoons, newspaper clippings, and more, visitors will explore how Americans assigned cultural meaning to money and how doing so helped them interpret politics, patriotism, and race.
---
Southern Ambitions
Southern Ambitions explores the Confederate States' aspiration to become global players on their own terms. With the fifth largest economy in the world prior to the Civil War, the Confederacy sought total independence. Their goal was prominence in economic, technological, and diplomatic partnerships among the leading western nations. At the heart of their vision lay plans for the growth and expansion of slavery.
But what happened when western nations rejected the Confederacy's hopes?
Southern Ambitions is presented in both English and Spanish
Research for this exhibition was made possible in part by a grant from The Andrew W. Mellon
Foundation.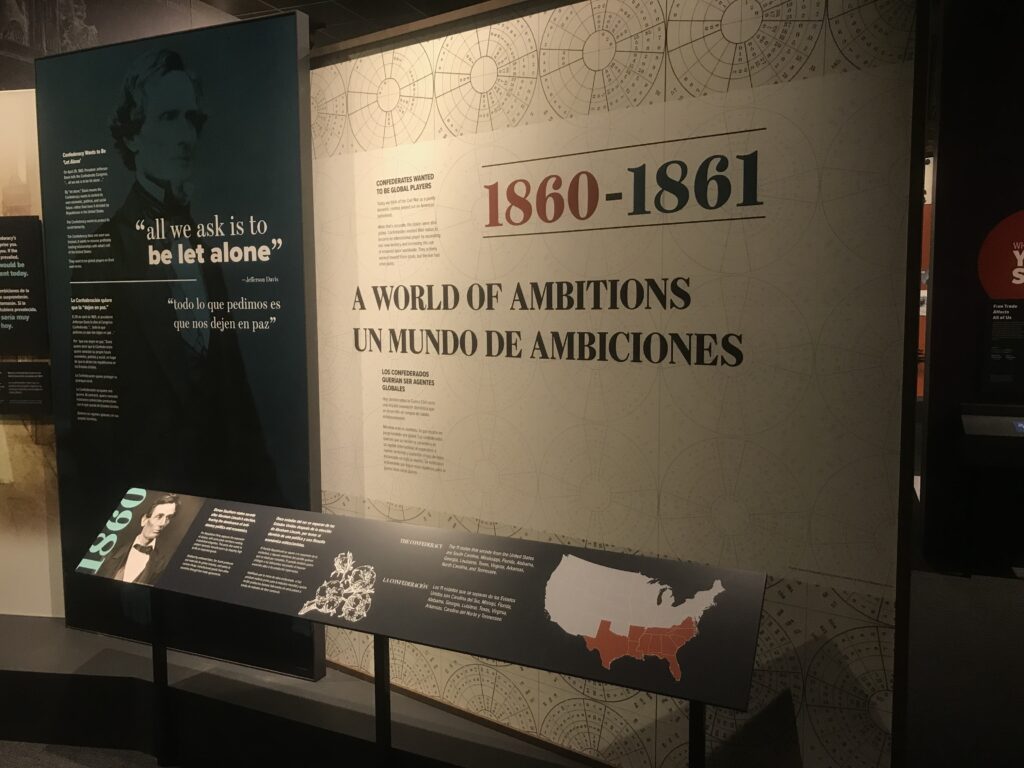 ---
Richmonders at War
What happens when wars come home to Americans? From the moment the new Confederate States moved their capital to Richmond, Virginia in late May 1861, capturing the city became a primary objective of United States armies. Richmond was the industrial and political hub of a new nation, the destination for conscripted and impressed soldiers, white and Black, and a place where wounded and sick men either recovered or died. In these ways, Richmond is unique in American history.